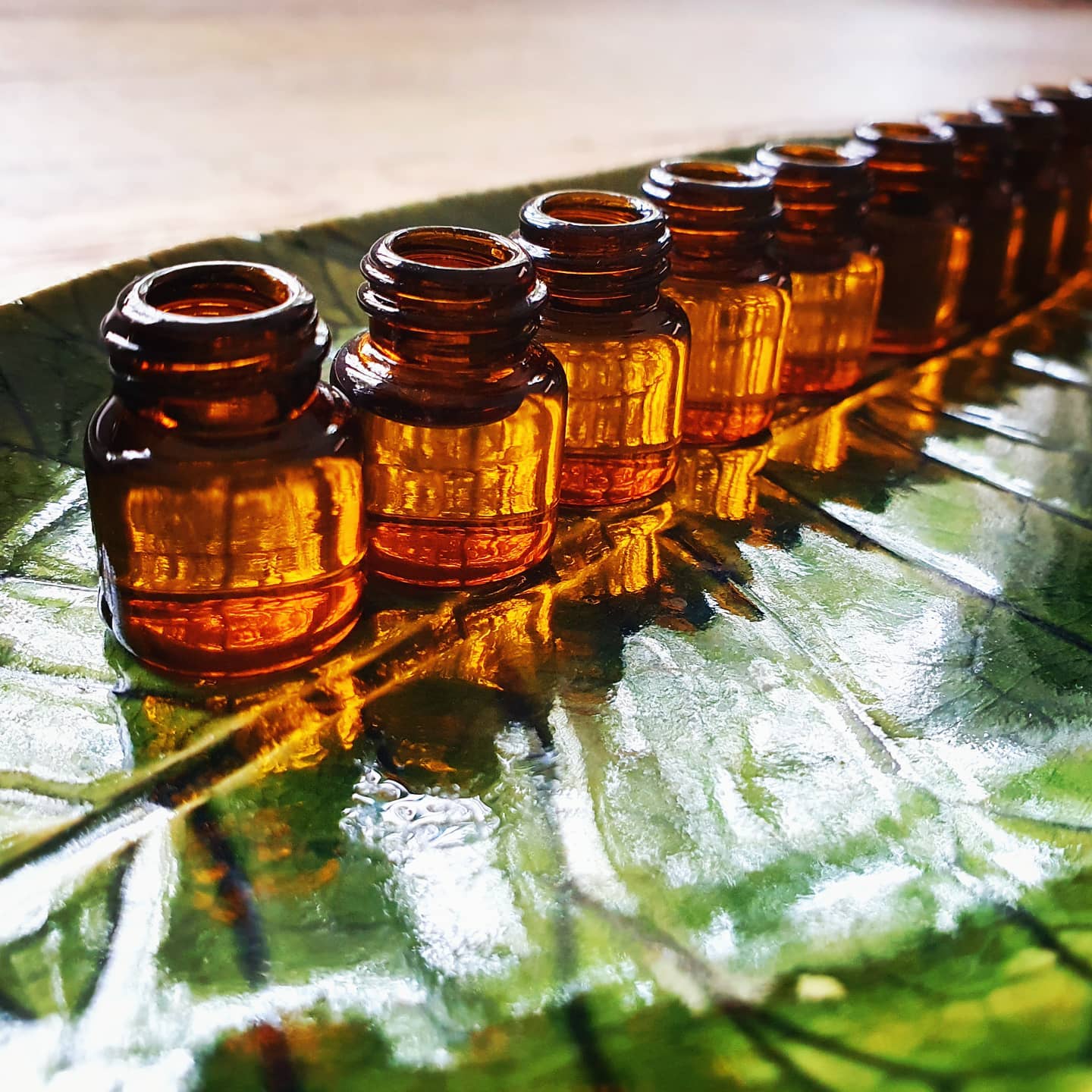 ESSENTIAL OIL BLEND: WAY BACK HOME
€25.00
WAY BACK HOME - Essential Oil Blend
This essential oil blend is your Way Back Home. It has been created from the depth of the forests, nature connection and my heart, to help us humans heal, together with nature, as healing of people and forests happens together.*
In this blend, the powerful essential oils of Douglas Fir, Juniper Berry and Clary Sage will be your guides towards trust and respect for the intelligence of your heart. The blend supports the healing of negative generational behavior patterns that we inherited from our families and that do not serve us anymore (Douglas Fir), it is our guide on the path towards exploring, accepting and reconciling with our fears and dark sides, so that we can reach greater wholeness (Juniper Berry). It assists in letting go of limiting belief systems and eliminate distractions from the mind, so that we can find a state of 'emptiness', a relaxed state of mind and body that allows us to be able to visualize and imagine new possibilities (Clary Sage).
The Way Back Home essential oil blend is the most powerful 100% natural elixir I could have imagined. It has been developed and tested for months, and together with a few other methods of emotional work like free journaling and forest therapy, it has been acting as a catalyst of a silent transformation of hearts and minds. It is with a huge amount of gratitude and love for nature and people that I committed to bring out this medicine that is based on, and connected with my own journey as a Forest Therapy guide, and share it with those who might need it. May it be your guide towards inner peace and your own heart on those days when you cannot connect easily with the outside nature.
*Amos Clifford in Your Guide to Forest Bathing, 2018
Ingredients: Douglas Fir, Juniper Berry, Clary Sage and a secret ingredient ツ

How to use: Inhale from bottle, diffuse, or place drops in hand, rug and inhale on any time of the day, carry with you throughout your day for moments of pause and reconnecting with your body through your sense of smell. Notice how it feels on your skin, if the smell brings you pleasure, if it can silence your mind for a while. Be with your sensations for just a moment at a time and over time, observe what has changed.
Practical: When ordering, please choose 'Nederland' and then either the shipping costs for Nederland if you live in the Netherlands, or for Europe and worldwide if you live in another country. If you wish to pay via iDeal, please choose 'Mollie' payment in payment options, you will be redirected.
Description:
Douglas Fir - The Oil of Generational Healing
Douglas Fir addresses generational issues by inviting individuals to break free from destructive traditions passed down through their families. Some examples of these are substance abuse, anger, codependency, physical or emotional abuse, eating issues, pride, the need to be right, hiding. It assists individuals to live according to their own conscience and values by letting go of harmful patterns that can be dealt with and put to rest with a greater ease. Douglas Fir aids this process and increases one's chances of success. It teaches that each generation can be a gift of new life, new growth, and new beginnings. Similarly, Douglas Fir can also assist with increasing the bond within one's family. In encourages healthy family dynamics where people and meaningful relationships are valued over blind loyalty to traditions. Additionally, Douglas Fir teaches individuals to learn from and value other's experiences, especially one's family and ancestors. It encourages respect for one's elders and ancestral heritage. Douglas Fir reminds individuals that valuable wisdom can be obtained by learning from the past, especially from individuals who are older, wiser and more experienced.
Juniper Berry - The Oil of Night
Juniper Berry helps individuals to understand that things they fear are intended to be their teachers. Instead of hiding from what they do not understand, Juniper Berry encourages individuals to learn the lesson and face their fear. These fears often live within the unexplored areas of the self. Juniper berry acts as a catalyst by helping individuals access and address those fears and issues which have long been avoided. As individuals reconcile with their fears and other hidden aspects of themselves, they experience greater wholeness. Juniper Berry helps restore the balance between light and dark, conscious and subconscious, day and night. It acts as a guide on the path toward wholeness. Juniper berry teaches that there is truly nothing to fear when one acknowledges and accepts all aspects of the self.
Clary Sage - The Oil of Clarity & Wisdom
Clary Sage assists individuals in changing their perceptions. It gives courage to see the truth, helping individuals to see their limiting belief systems. Clary Sage encourages individuals to remain open to new ideas and new perspectives. It can assist during a healing crisis when a drastic change of perspective is required. Clary Sage opens the soul to new possibilities and experiences and assists in opening creative channels and clearing creative blocks. It eliminates distractions from the mind and assists individuals in finding a state of emptiness where creative forces may be realized. It increases the ability to visualize and imagine new possibilities. Clary Sage teaches the spirit how to use its divinely given gifts and is especially helpful in clarifying spiritual vision.

Size: 1 ml (Try out), 5 ml or 15 ml, only a few drops needed to enjoy
Made with deep respect for nature, and for you.