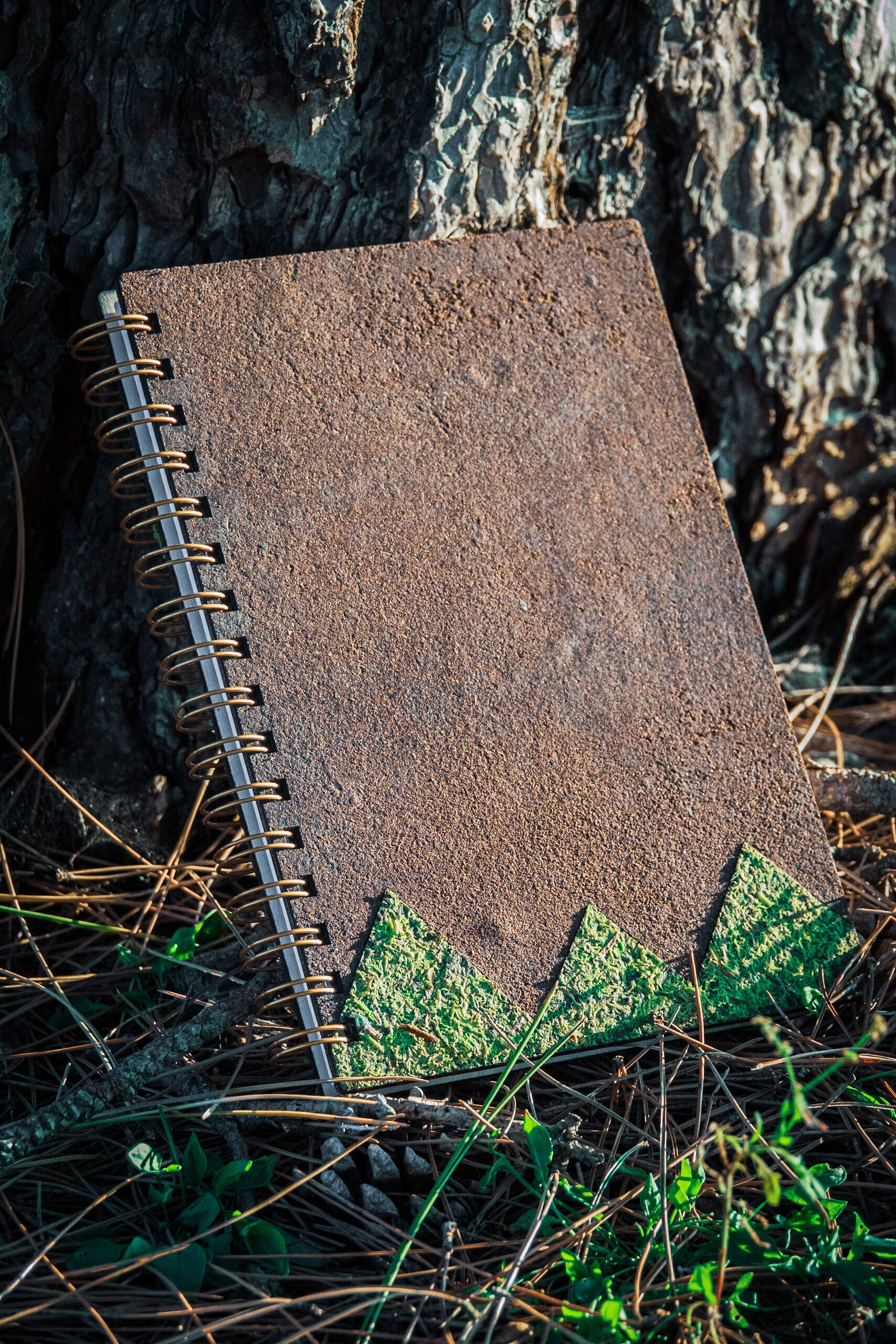 Nature Connection Journal
€35.00
WAY BACK HOME NOW
NATURE CONNECTION JOURNAL

Forest Therapy - Forest Bathing - Shinrin-yoku
Journal Cover: delicious green moss & brown tree bast on wood, made by Nature on Wood (NOW) using Organoid Technologies that preserve the smell, touch and visuals of real nature in a natural way
Journal Inside: Recycled paper, journaling prompts, dotted pages for journaling, inspiring authentic quotes by Forest Therapy walk participants, original nature-inspired illustrations by Way Back Home (WBH)
"No one will protect what they don't care about,
and no one will care about what they have never experienced."
Sir David Attenborough
Dear Nature Lovers, Inner Peace Seekers, Friends,
This journal is your place to reflect about your own experience of nature, your connection with nature and with yourself. Both the cover and the pages of this journal are a feel-good place created from the depth of our hearts, offering you space to write down or draw all things connected with your nature trips, walks, your realizations, insights and observations, all the aha moments nature and the more-than-human-world tend to be giving us so generously through our senses as well as our (often forgotten or underestimated) sense of imagination. All these treasures are both valuable and necessary for our good mental and spiritual health, yet they can get lost so easily in the day-to-day pace of life when we come back home and don't take a moment to process or digest them in some way, so that these can get embodied.
As a Forest Therapy guide I have observed that each person receives exactly what they need from nature at any given day, and everyone is processing these gifts and lessons in their own way that is only between them and nature. In my own nature connection journey, my Way Back Home, I've been using journaling to reflect upon encounters in nature and with nature, encounters with myself and my own beliefs, filters and attachments, as well as encounters with other living beings. These realizations and journal entries have initiated a peaceful transformation of heart and mind that is still ongoing and beautifully affecting every aspect of my life, including all interactions with the human and more-than-human world. Along with meditation, personal inventory, therapy modalities and health habits, journaling and nature therapy are also considered two of the most powerful tools for Emotional Work (Essential Emotions, 2018).
This journal is holding space for you to capture those valuable moments, to pause and reflect while writing about a few suggested prompts, as well as connecting through some authentic quotes from my Forest Therapy walk participants in more than ten different forests of five countries of the world. Their words can, perhaps better than my own, describe how it feels to remember where we come from, what we are, and how it feels to be really at peace and alive. An experience that is part of our DNA and that we share across countries, cultures, continents and species. Feel free to use any of the suggested prompts to write about, to draw or sketch whatever catches the attention of your senses, take notes, take the journal with you when you spend slow time in nature, or use it back home to reflect and capture your insights. If you feel like sharing, you can take a picture of your entries and send it to kat@waybackhome.info I'll be honored to witness your journey at any point.
With a deep bow for you and the rest of nature and a big forest smile,
Kat @ Way Back Home
This journal has been brought to you by Way Back Home (WBH) and Nature on Wood (NOW). Read more about us and connect via
www.waybackhome.info and www.natureonwood.com