Shinrin-yoku (Forest Bathing) is a great engaging activity for teams. It is a very natural way of teambuilding, with team members getting to know each other in an entirely new way, an in a non-competitive, relaxed and organic atmosphere. Shinrin-yoku team events are known for strengthening the team spirit, are relaxing, bring new insights, help to view challenges from a different angle and promote creative thinking, focus, mental clarity and the sense of well-being. A few benefits at a glance:
Improved feeling of well-being, better mood, an energy boost

Deep relaxation, lowering stress hormone levels (cortisol)

Improved focus, mental clarity and alertness

More creativity and problem-solving capacity

A step back from everyday context, new perspectives

Better contact with yourself and with nature

Getting to know colleagues better and in a completely new way

Sense of belonging and more engagement with team
The team event will be tailor-made for your team. Please contact us via the form below to discuss the possibilities with the guide. You can also call us at +31646044225.
"I had the great pleasure of being introduced to the Japanese practice of forest bathing by Kat. I didn't know what to expect other than to be in the forest going for a walk. What I experienced was a pleasant surprise. We entered nature, explored it with our 5 + senses, and connected with the earth, it's trees and the environment in an intuitive manner. Much of this was done in silence. Kat was a gentle, inviting and welcoming guide. I highly recommend this for people who are looking for a low key way to connect with themselves and their surroundings. It works well with small groups, teams, good friends and for a solo inquiry. I will do it again! I left feeling refreshed, energized, and relaxed. Highly recommended. Thank you."

"Going forest bathing with Kat was delicious. I never move slow, I never want to, but three hours in a forest with Kat slowed my pace down, naturally and in a way that felt good to me. It is a truly relaxing experience with a wonderful guide. afterwards I was in a great mood, re-energized and feeling more in tune with myself and my surroundings. Do I recommend anyone to join Kat? Yes, I certainly do. unless you don't like trees ;)"

Companies who have recently enjoyed a Shinrin-yoku team event with Way Back Home: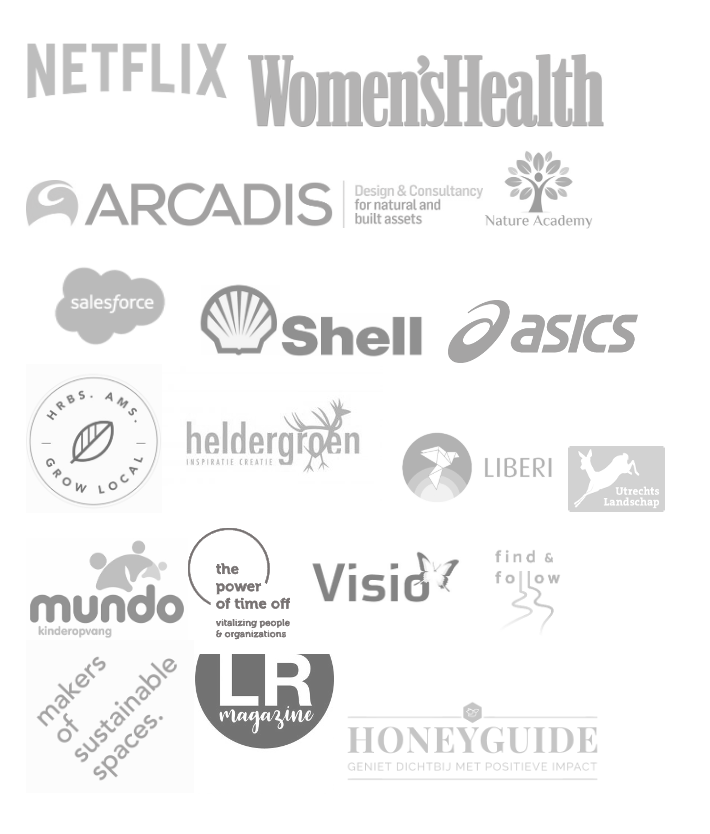 ---
---
Participants Feedback:
"Our team of 5 had a truly remarkable experience forest bathing with Kat. She really helped us to slow down and find peace in nature. Most special of all is to feel the serene power of nature! I would recommend this for any individual or group seeking peace."
"It was an amazing session and perfect to start our three-day workshop with. The feedback was extremely positive!"

"I attended Kat's forest bathing session during a corporate away day earlier this year. Kat facilitated a great session - a good way to relax from the strains of daily live and learn to re-connect with nature."

"I felt really re-energized after the walk, I still can feel the benefits after more than one week, my morale is boosted."

"Very special experience, definitely a good way to step out of your busy life for a couple of hours."

"I've heard about Shinrin-yoku before, but never actually experienced it. When I was organizing a three-day event for my team now, it felt as a perfect way to start the even with, to re-connect with ourselves to begin with." "I was quite stressed out before we started and totally relaxed at the end. Very calming experience, the entire 1,5 hour. And the tea ceremony was simply beautiful for the eye too." "The energy we have cultivated there and brought back to the city was very precious for myself, and for the people around me."
---
"When one tugs at a single thing in nature, he finds it attached to the rest of the world." -John Muir